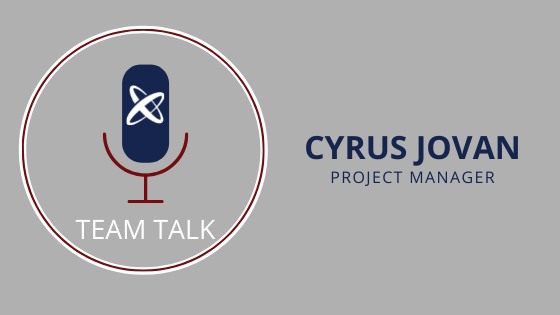 Cyrus Jovan Chats About Project Management
This month we speak to Cyrus Jovan, Project Manager, about his experience with clients, working for HealthAxis, and utilizing Agile methodology to empower teams to make decisions and facilitate communication internally and cross-departments. 
Tell us about your team and daily activities.
The Project Management Office (PMO) is responsible for managing both implementations and HealthAxis scrum teams. Project Managers coordinate internally with our project teams and externally with the client to ensure their projects are successful. In addition, our department also leads our internal scrum meetings, which are meetings teams use to produce products faster by breaking large development projects into smaller pieces. As scrum masters, we act as facilitators to remove impediments and meet sprint goals every week. 
What does an average day look like for you / your team?  
The Project Managers (PM) and Scrum Masters (SM's) will both have busy days; however, the PM is mainly on client-facing calls addressing requirements outlined in the Statement of Work (SoW). Each project is unique and encompasses a distinct set of requirements. Different working areas of projects have their own set of meetings with internal and external resources. These meetings determine issues or risks and facilitate progress, allowing us to meet the project's correlated milestones. Scrum Masters are HealthAxis resources that manage assigned scrums and set expectations on a bi-weekly basis. Scrum masters conduct successful sprints by hosting planning sessions, daily stand-up meetings, and Sprint Retrospectives (lessons learned). They also follow up with resources daily to ensure progress and to assist with impediments. 
Do you have any exciting upcoming projects? 
As the Cherokee Indian Hospital Authority (CIHA) implementation Project Manager, I am personally looking forward to the 7/1/2021 Go-Live. Monitoring that all items are complete, tested and that a successful transition occurs both internally and externally for the implementation is always an exciting time in the project life cycle. While all projects are unique, this implementation represents the very first Tribal Option (TO) hospital in the country to become a stand-alone health plan sponsored by the North Carolina Department of Health and Human Services (DHHS) and will be the first to offer medical services under the TO umbrella for the Cherokee Nation in North Carolina. Therefore, it sets the standard for future Tribal Options in other states for other tribes and their respected state DHHS.  
What has been your favorite memory so far with HealthAxis? 
My favorite memory at HealthAxis involves the many occasions where our backs have been against the wall and our team worked together to complete the task at hand. Whether it be changing scopes or shifting dates, we always work together to accomplish our end goals.