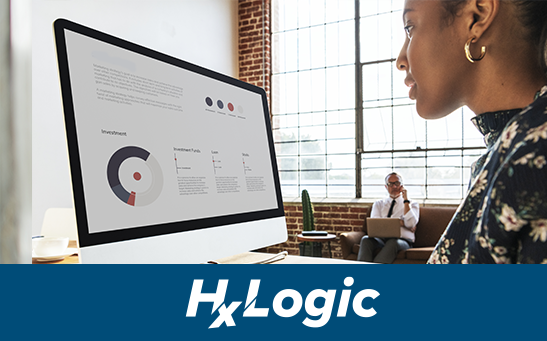 HxLogic is a powerful pre-built data warehouse and analytics solution that provides healthcare organizations with near real-time information to fundamental subjects like claims, members, providers, product, medical informatics, general ledger and standardized code sets. Helping organizations integrate both structured and unstructured data, including medical, pharmacy, and dental claims, as well as information about member eligibility, benefit design, providers, enrollment, public databases, demographics, websites and member experience outlets.  
How does
Hx
Logic
make an impact
? 
Today's business challenges demand timely Healthcare expense information that enables executives, managers and front-line employees to make better decisions, take action and correct problems before they effect quality of care.  
Achieving better business performance requires more than just improving process efficiency or enhancing healthcare expense reporting.  Rather, it requires improving effectiveness by leveraging advanced analytics that integrate data from across the organization and provide insight to the people who can impact the quality of care and cost management. 
HxLogic integrates critical data from across the enterprise value chain and transforms it into timely, actionable information so organizations can make the right decisions at the right time. 
What are the key 
features
?
Over 175 Reports Measuring 750+ Metrics

 

Pre-built Data Warehouse, Data Models, ETL Workflows and Analytics

 

Automatically Integrate Data from Multiple Sources

 

Pre-built, Self Service and Customizable Analytics

 

Timely and in-context healthcare and cost information to improve decision-making

 

Predictive Analytics for ER Admission and Hospital Readmission 

 
Out of the Box Dashboards:
Executive Overview

 

Medical Cost Overview

 

Inpatient

 

Outpatient

 

ER

 

Enrollment

 

Membership

 

Readmission Analysis

 

High-Cost Members

 

Professional

 

Provider Peer Review

 

Pharmacy

 

Actuarial

 
 What are the HxLogic modules?  
Modules include medical cost, self-funded, accountable care, care manager, and all-payer claims database. 
What can 
Hx
Logic
 do for you?
HxLogic accelerates the deployment of your healthcare data warehouse with prebuilt rules and data models revealing the insights hidden in your data in the shortest time frame possible.  By integrating siloed data sources, your business users have a complete view of the customer, business costs, and operations.  
Whe
re
 can I learn more?
Contact us today to talk to an industry expert or request a demo to learn more about HxLogic and how our data warehouse and analytics solution can fully integrate with claims processing technology, HxPro, and third-party administration services, HxOps.