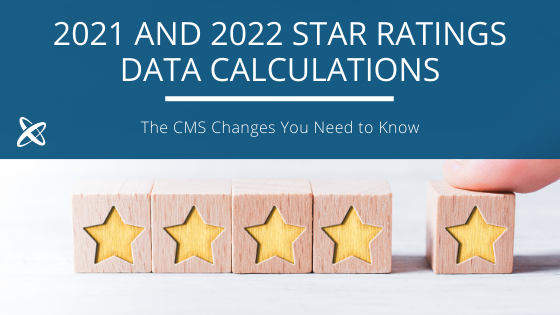 CMS Changes to 2021 & 2022 Star Ratings Data Calculations
The Centers for Medicare & Medicaid Services (CMS) announced it will "put patients over paperwork to provide temporary relief from many paperwork, reporting and audit requirements so providers, health care facilities, Medicare Advantage, and Part D plans, and States can focus on providing needed care to Medicare and Medicaid beneficiaries affected by COVID-19."
Summary of  Changes
In light of the public safety issues in continuing to require the collection, validation, and submission of data for the 2019 measurement year, the first Interim Final rule removed the requirement for Medicare health plans to submit Healthcare Effectiveness Data and Information Set (HEDIS) 2020 data covering the 2019 measurement year for the Medicare program.

CMS is removing the requirement for submission of 2020 Consumer Assessment of Healthcare Providers & Systems (CAPHS) survey data for Medicare health and drug plans. Part C and D plans may use any CAHPS survey data collected for their internal quality improvement efforts.
Lastly, the 2020 Health Outcomes Survey administered by NCQA in partnership with CMS as a component of HEDIS data collection is postponed to late summer.
Changes to 2021 Star Ratings Calculations
CMS will also be taking the following actions with respect to 2021 Star Rating calculations:
CMS will use last year's HEDIS measures scores and ratings from the 2020 Star Ratings for the 2021 Star Ratings. 
If the COVID-19 outbreak prevents the agency from having validated data or results in systemic data integrity issues for any other measures, CMS will replace the 2019 data that has any quality issues due to COVID-19 with the measure-level Star rating and score from the 2020 Star ratings. 
For newer contracts where the 2021 Star Ratings would be the first year that they would receive a Star Rating, CMS will treat them as new for an additional year since CMS would not have enough data to assign a rating.
Changes to 2022 Star Ratings Calculations
For 2022 Star Ratings, CMS expects Medicare Advantage contracts to submit HEDIS data in June of 2021, and Medicare Advantage and Prescription Drug Plan (Part D) contracts to administer the CAHPS survey in 2021.
To address any concerns about overall performance in 2020, the agency is changing the applicability date of the guardrails policy from January 1, 2020, to January 1, 2021. This will delay the implementation of the 5% point cap so that cut points for the 2022 Star Ratings can change by more than 5% points if national performance declines overall as a result of the COVID-19 outbreak.
CMS says it will calculate the Part C and D improvement measure scores for the 2022 Star Ratings as codified, but "recognizes that the COVID-19 outbreak may result in a decline in industry performance, therefore expanding the "hold harmless rule" to include all contracts at the overall and summary rating levels."
Let HealthAxis' knowledgeable team and cutting edge services keep your business on track and help you navigate change.