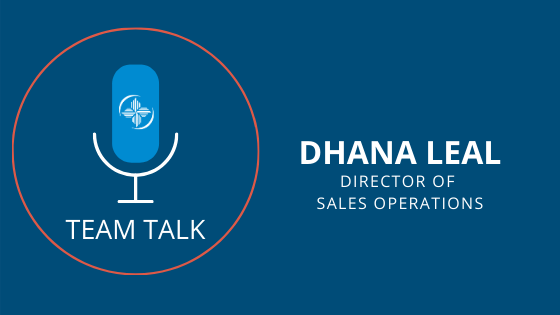 Dhana Leal, Director of Sales Operations speaks about her different roles and adapting to pandemic
This month we are speaking to Dhana Leal, Director of Sales Operations

about her experience with clients, working for 

HealthAxis

 Group, and how she is adapting to a new department during a global pandemic.  

 
How

 

do our health plan clients benefit from working with

HealthAxis

Group?
We have a lot of offerings that health plan clients benefit from, but what stands out the most to me is our integration capabilities. With HealthAxis Group, clients can have their analytics and data working for them and connect this information through the software and use it to customize service solutions. In my tenure, I have seen a lot of development and improvements. We are constantly evolving to provide our clients and partners with the latest technology to streamline processes.  
What has been your most rewarding or satisfying experience with our company? 

 
The most rewarding experience has been to work with so many great teams. This diversity allowed me to learn so much by partnering with individuals who are extremely knowledgeable, proud of their work, and genuinely care about the organization. I find that dynamic to be a huge driver for a lot of the organization's successes.   
Working side by side with Michele Mahoney and the operations team on projects such as Freedom, Optimum, and Cencal taught me invaluable information about the industry. Furthermore, having the pleasure to guide project management operations was an absolute pleasure. That team's dedication and eagerness to learn and do things the best way possible was a blessing. On the technology side, I also worked with a group of individuals who I consider the foundation of the organization. The passion of these individuals and their hard work is impressive and admirable.  
How has your experience been through the Covid-19 remote work transition?  

 
My experience working remotely has been seamless for the most part. I believe it has been a very healthy option for me, saving the daily drive has allowed me to be more productive. Joining a new team in a remote environment could have been challenging, but I have not experienced technical challenges or trouble connecting with people. We use the Microsoft Suite to stay connected, and Teams have proven to be a helpful tool for video calls and file sharing.     
I can take a few breaks throughout the workday that I would not have typically taken in the office because I can work as late as I want or need to complete a goal or task. Unfortunately, a pandemic was the trigger for this shift, and I am saddened by that, but I believe the work-from-home effort to be fruitful to those who work better in such an environment, and I happen to be one of those.