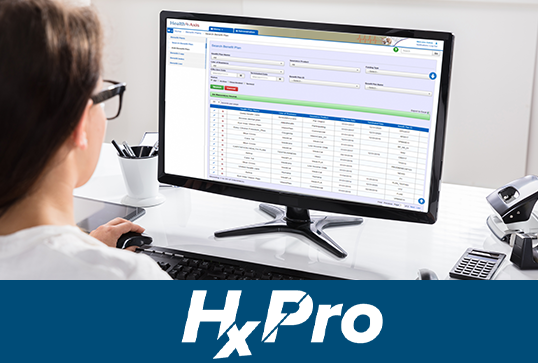 HxPro is a benefit and claims administration system built entirely on next-generation technology, designed for flexibility and performance with highly automated workflows that drive efficiency gains, reduce errors, and ensures compliance. 
What makes
HxPro
 stand 
out from
 other systems
? 
HxPro is scalable, interoperable, and modifiable. The cloud-based architecture supports limitless expansion opportunities with service-oriented design and open application programming interfaces (APIs) allow for easy data access and third–party collaboration. The HealthAxis system partners with your team to create unique strategies with the ability to tailor logic, workflows, and interfaces. 
What are the key features?
Highly Efficient and Configurable Benefit Design Options

 

Flexible Contracting Arrangements and Reimbursement Methodologies

 

Powerful Online, Real-Time Claims Workflow Engine

 

Integrated Data Analytics and Departmental Dashboards

 

Extensive Provider Database Management Administration

 

Medical Management (UM/DM/CM)

 

Appeals and Grievance Management

 

Automated Customer Service Call Center Functionality

High Claim Auto-Adjudication Rates

 

Advanced Medical and Operational Reporting Capabilities

 

Extensive Data Aggregation and Sharing Capabilities with Trading Partners, Providers, and Members

 
Who does HxPro b
enefit
? 
All Medicare, Medicaid, commercial, self-funded, dental and vision plans, Individual Practice Associations (IPAs), and Accountable Care Organizations (ACOs). 
What can 
HxPro
 do for you?
If you are looking for a more customized approach to your claims processing, HealthAxis can help. Let our team know how we can personalize our design to best support your growing claims and benefit processing needs. We are always looking to improve our systems to best fit the market's needs. Send us a note at info@healthaxis.com.  
Whe
re
can you learn more?
Contact us today to talk to an industry expert or request a demo for your team to view the cutting-edge design, see the power of integrated real-time workflows, and learn how this online engine can help elevate your company's success.